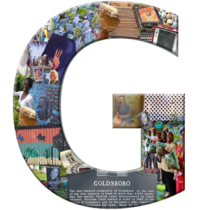 GOLDSBORO WEST SIDE COMMUNITY HISTORICAL ASSOCIATION, INC.

On December 1, 1891 the town of Goldsboro was the second black incorporated City in the United States. The Goldsboro Museum showcases and preserves the history, heritage, livelihood, and culture of Goldsboro, Florida.
VIEW ARCHIVE

The Francis Oliver Cultural Arts and Goldsboro Welcome Center illustrates exhibits from local current Artist's in Art, Dance, Music, and Theatre. The Welcome Center has live author readings, musical, poetry, and theatre performances.
VIEW ARCHIVE

Crooms Academy, an all black institute, was constructed in 1926 due to the westward movement by the Black population of the Goldsboro Community, once known as the "Celery Belt". The history of Crooms Academy is a wide-ranging collection of pictures, year books, and other artifacts and memorabilia depicting the Crooms story.
VIEW ARCHIVE

The purpose of the garden is to improve the quality of life through health and humanities. The Heritage and Art Garden engages citizens with the farming roots of Goldsboro, supports the farm to table initiative, and provides STEAM (Science, Technology, Engineering, Arts, and Mathematics) education. Our organic garden contains no pesticides, chemicals, or growth hormones. All fruits and vegetables are provides to the community at no cost.
VIEW ARCHIVE

The Goldsboro Art Square features "Pop Art" from artist Jeff Sonksen, The Crealdé School of Art, and Local Artists. A multi-color fence borders painting's, coordinated tree borders, and vegetable and flower gardens's. The Art Square is used to promote local artists, beautification, and outdoor events featuring the extraordinary heritage of Goldsboro.
VIEW ARCHIVE
Page Jackson 's Cemetery was established in 1830 as the main burial ground for former slaves and their descents residing in Goldsboro. At the time of its conception it was known as the "Colored Cemetery," and is located approximately on 2 acres of land that gave African Americans the opportunity to give their loved ones a final respectful resting place. The extraordinary heritage of African American community leaders, businessmen, educators, politicians, farmworkers, railroad labors, domestics, indigents, all who were early settlers before the incorporation of Goldsboro and the City of Sanford are all buried side by side. Within its boundaries also lies the final resting place for African American Civil War, World War I, World War II Veterans.
VIEW ARCHIVE
In the news
14

Nov

GOLDSBORO: A letter from the past.         I am Catherine B Bostic. Born to Mr. & Mrs. Ed Bostic on January 31, 1900. As a child

Read more

14

Nov

This History is important because "It Is Black History" The story goes something like this! Between 1910 and 1970, Black People moved from 14 states

Read more

03

Sep

  Goldsboro, An American story of Hope, Freedom, and Independence. A community of African American citizens living in Orange County, Florida dreamed of having

Read more
What our visitors saying about their experience!
Please come out and see this amazing Museum. Not knowing every piece of history is a thing to waste and not celebrate for. Mind opening when you leave out with more facts than what you already knew.

Kathy Baker

I'm a lover of all things that dates back to dealing with History. I'm proud to know the trials and tribulations of my birth town.

Alexis Jones

I really enjoyed myself. I've lived in Sanford for a very long stuff even during the time of its constructive formation from Goldsboro into the City of Sanford. It helps to know more than what you've already experienced in your hometown. History is truly alive in this Museum.

Jackie Lawson

My kids want to visit every museum now ! Tour guide was funny, engaging, and full of fun facts about history that stills now in our time.

Hannah Hunter